NEW RANGE!
Counterstrike Series
Fully Electric Range
Introducing our new and exciting fully electric series! With vans for couples and families this series is innovative and will keep you off-grid for longer!
Come visit us
Caravan Shows
Counterstrike Series on Display!
Discover your new van at our upcoming Caravan Shows.
Our Gift to You
Off-Grid Pack
Worth $7K!
We are gifting you the 'Off Grid Pack' that is worth $7k!!
Kokoda Caravans
Strength.
Passion.
Pride.
Taking you on the adventure of a lifetime. Explore Australia in the perfect caravan for you and your family.
The Song Trail
Kasey Chambers
Taking her family and her music on the road, through the Australian Outback in a Cadet 2.
BOOK NOW!
QUICK DELIVERY
Want to get away sooner than later? Then book your van in with Kokoda Caravans and driveaway before you know it.
Australian Manufactured & Owned
AUSTRALIAN MADE
Proudly made in Melbourne, Victoria, Australia and owned by an Australian Family.
Download Brochures
Download a brochure today and view more information on each model, from layouts, to specifications our brochures are packed with all the information you need.
Next
Previous
Wanting to get on the road sooner than later?
Then checkout what we have in stock & ready to go!
Strength. Passion. Pride.
Ruggedly built for the Australian Outback.
Luxuriously designed for your comfort.
Strength, Passion and Pride is what drives us at Kokoda.
We deliver caravans of great Strength built with Passion right here in Australia. This is something we take great Pride in.
Our caravans are 100% Australian made.
JOIN OUR MAILING LIST
Stay up to date and sign up to our newsletter
Kokoda Caravans are Melbourne Made and Australian owned.
Support local and join the Kokoda Community today!
HERE'S WHAT KOKODIAN'S HAVE TO SAY
We are a family of 5 that decided back in 2022 that we needed a lifestyle change. We have since packed up our suburban lives, sold our home, and after looking at many options, decided to work with Kokoda to design and customise a Force 7 to allow us to travel full time and live 100% off grid and travel off road to all our bucket list places. We love our Force 7!
We sold our house and left our full time jobs to travel Australia with our three dogs. We bought a Kokoda Cadet 2 (with bunk beds) to accomodate the pups, and haven't looked back since!
Our Kokoda Scout is an awesome compact van. Perfectly sized for my 2 daughters and I. The colour palette inside and out is modern and oozes quality throughout. Full off road 18ft.

Kokoda vans are definitely worth a look. Everyone that has inspected our van has been impressed.

My girls and I look forward to many incredible adventures together.
GET IN TOUCH WITH ONE OF OUR FRIENDLY STAFF.
Our friendly and professional team at Kokoda strive to ensure that you have the best experience from the beginning of your journey, right through until the end and beyond. We are willing to help at any time.
CONTACT US
Connect with us on Socials
We love following your caravan journeys on Social Media. If you would like to share you stories with the Kokodian Community please tag us on socials. We would love to share your experiences with the community.
WHERE ARE KOKODA CARAVANS MADE?
Kokoda Caravans are Melbourne made and are about as Australian as a caravan can get. We have an Aussie owner who has sourced the best Aussie parts and component manufacturers going around.
Kokoda Caravans
Strength.
Passion.
Pride.
Our slogan at Kokoda is; Strength, Passion and Pride. Our caravans are 100% Australian made. Our team is passionate about building a van that they and you will take great pride in.
Our team knows caravans and camping. They are ready to talk all things travel with you and are a friendly and professional team. Feel free to call us with any questions you may have.
To download our brochures, please complete the form below: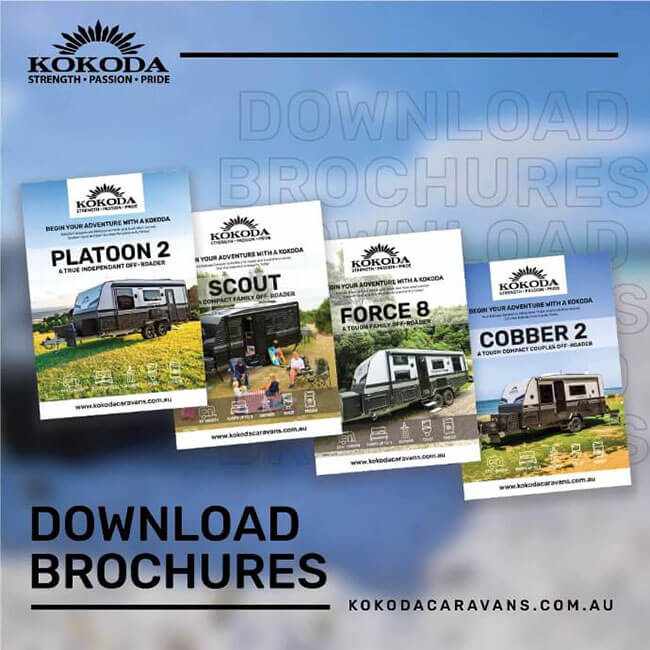 Kokoda caravans for sale: Hit the road in style and comfort
Traveling goes far beyond just getting from A to B. It's a fantastic opportunity to enjoy a change of scenery, meet new people and nurture happy memories. But this can be overshadowed by the stress of booking flights and hotels or going the routes that are anything but unique. If you have your heart set on the chance to hit the road at the drop of a hat, invest in a caravan in Australia with Kokoda.
Kokoda is the name behind a range of caravans for families and couples, for every taste and budget. Comfort-inspired interiors and off-road capabilities make our caravans a dream way to journey across the country. Choose your ideal house on wheels and relish the freedom to take a break from the fuss whenever you need it.
As a dedicated caravan company, we design and manufacture robust vehicles for variable conditions. No matter what destination you choose to start a journey to, you can do it in style and comfort all year round. Take a last-minute trip without getting your plans aligned with travel agencies!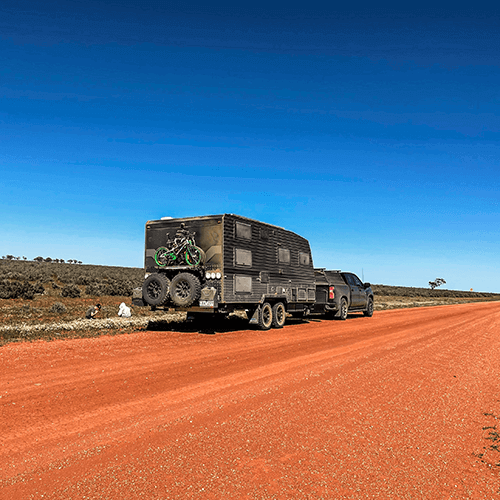 Discover a new way of travelling with Kokoda caravans
Gone are the days when caravan trips were infamous for cramped sleeping arrangements, primitive campsites and poor hygiene. Kokoda offers a plethora of caravans for sale in Australia that look more like boutique hotels on wheels. They provide everything you need for a relaxed and carefree travelling experience, from a queen-size bed to a shower to a kitchen.
Our caravans are built with style and comfort, inside and out so that you can feel at ease as you cover the countless miles of exploration. On your trip, their unrivalled road-holding characteristics bring your safety to the next level, whether you're on or off the road. Backed by years of industry experience and a passion for travelling, we only design 100% Australian-made vehicles that last and can be relied on.
Purchase a caravan that's made for you
Investing in a caravan is like a breath of fresh air for your lifestyle. Get ready to start exploring new horizons, spending quality time with your family and having fun outdoors. You may feel like you need to overcome some stumbling blocks to get there. Or you can leave them to Kokoda.
Kokoda is synonymous with uncompromising customer service and complete transparency, including pricing. Browse through our offers to find out our caravan prices for basic specifications.
Let us take the hassle out of the buying process to make it as pleasant for you as possible. If you have any specific requirements for your caravan, feel free to share them with us. Remember, your vehicle should meet your lifestyle needs. We are always happy to add some custom features and tweak the colour of the key interior design elements to maximise your camping experience. Once your caravan is ready, you can pick it up at our factory or get it delivered right to your home.
Check out our after-sale recommendations to learn more about the services required for regular maintenance of your caravan. Want to find out the exact caravan cost according to your requirements? Contact us to discuss the details and get a quote.


Once you buy a caravan home at Kokoda, you can dip your toes into a DIY way of travelling while:
● Reaching any remote locations
● Getting closer to nature and hidden spots
● Driving as far as you want and staying wherever you want
● Joining the Kokoda community
It's easy to get homesick when you're far away from home and the things you love. With our caravans for sale, you can bring the comfort of your home with you wherever you go. Don't compromise your travel anymore!
If you're not into all things logistics and booking, a family trip may become a nightmare. It can be challenging and overwhelming to get plane tickets and book hotel rooms for all family members while staying within the budget. But when you own a family caravan, you can save yourself all these headaches and enjoy your getaway to the fullest. The more, the merrier!
Take the virtual tour to choose from Kokoda family or couples off-road caravans for sale
Try our 360 Virtual Tours, which can be found on certain model pages.
The smart space-saving features and layouts maximising the efficiency of Kokoda caravans are best explored and compared through 360° virtual tours. Though compact, they pack in a lot to ensure you stay comfortable, regardless of the weather and terrain. But simply looking at floor plans and reading the descriptions won't give you an idea of what the interior looks and feels like. If you are looking for a reliable yet affordable off-road caravans, shop our range of family or couples options and compare their features through videos and virtual tours.
All Kokoda caravans boast living and kitchen areas that feel spacious and homey, perfect for couples or families that share a passion for van life and those just setting out to explore new destinations. If you compare the features included and the Kokoda off-road caravan cost to that of our competitors, you'll see that we offer the most cost-effective options without compromising quality or style.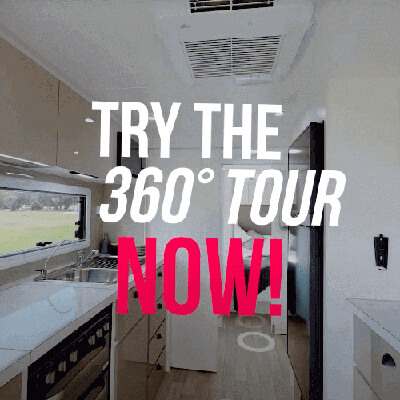 Buy a new caravan in Australia to explore appealing routes
Does your to-do list for this year involve sleeping under the stars, discovering Australia's top-10 hidden gems and sharing fascinating stories by a campfire? Getting a Kokoda can jump-start your plans. You'll never want to stay at home with such a cozy home on wheels.
Currently, Kokoda leads the way for caravan sales websites in Australia. That's because our vehicles are distinguished by premium quality and custom designs. Plus, you can take advantage of our 3-year nationwide factory warranty that covers structural, electrical and plumbing issues in your caravan. Whether it's a Family or Couples line, your caravan is sure to be a stunning blend of practicality, comfort and safety.
Disclaimer: Please note all efforts have been made to correctly advertise caravan descriptions and prices on our website and brochures. Occasionally genuine data entry errors occur when creating a caravan listing. The Kokoda Caravans sales team will confirm pricing when putting together a custom quote for you.
AUSTRALIAN MADE
Made and manufactured in Melbourne, Australia.
GREAT VALUE
Premium quality and unbeatable value.
QUALITY BUILT
Built with attention to detail and high quality.
NATIONWIDE WARRANTY
Offering a nationwide warranty so you can have peace of mind.