Force 8 | 22'6" | WAS $103,990 ON SALE $100,990
Force 8 | 22'6" | WAS $103,990 ON SALE $100,990
The Force 8 is engineered to serve a specific purpose and trusted to take on some of the toughest conditions with its enhanced set of features which have widened its off-road capabilities.

Clever in design, the spacious L-shaped lounge and kitchen area separates the master bed from the bunk quarters providing a comfortable space for all the campers on board.

A durable suspension and 2" riser on the chassis is a visual standout when coupled with the rear cut-a-way. A thoughtful design when towing a formidable family van like the Force 8.

There has been no stone left unturned with the Force 8. No matter where the Force takes you, you'll feel right at home in an innovative interior design that is modern, fresh and smart.
Force 8
Take a walk through with the Kokoda team and learn all about the Force 8.
They show you its features, the interior, storage, exterior features and much more. 
Watch the video to see what the Force 8 has to offer. 
Floor Plan Layout
The Force 8 is packed with premium features. 
Sleeping 
Queen Bed + Bunks
Queen island bed with an innerspring mattress and storage underneath, dual bedside niche's with 240v and 12v points in each wardrobe.
Top Bunk 1.85m / Bottom Bunk 2.2m Long with windows, reading lights with USB ports and a magazine pocket. Standard in the bunk area are 2 x drawers below and a spacious double wardrobe with large drawers. *Third bunk optional.
Amenities 
Full ensuite providing a spacious shower with an adjustable height shower head, separate toilet and basin with storage. Split system heat/cool. Internal/external speakers with bluetooth connectivity. Outdoor hot/cold shower.
5 Star Living Quarters
Modern, fresh and smart showcasing spacious living with a super comfortable L-shaped lounge and table. There's room for the entire family to have their own space.
Kitchen
Gas oven and mini grill with 3 gas burners and 1 electric burner. 188Ltr Thetford 3-Way (Automatic) fridge. 240v microwave. Ample drawer and overhead cupboard storage space and a pull out pantry.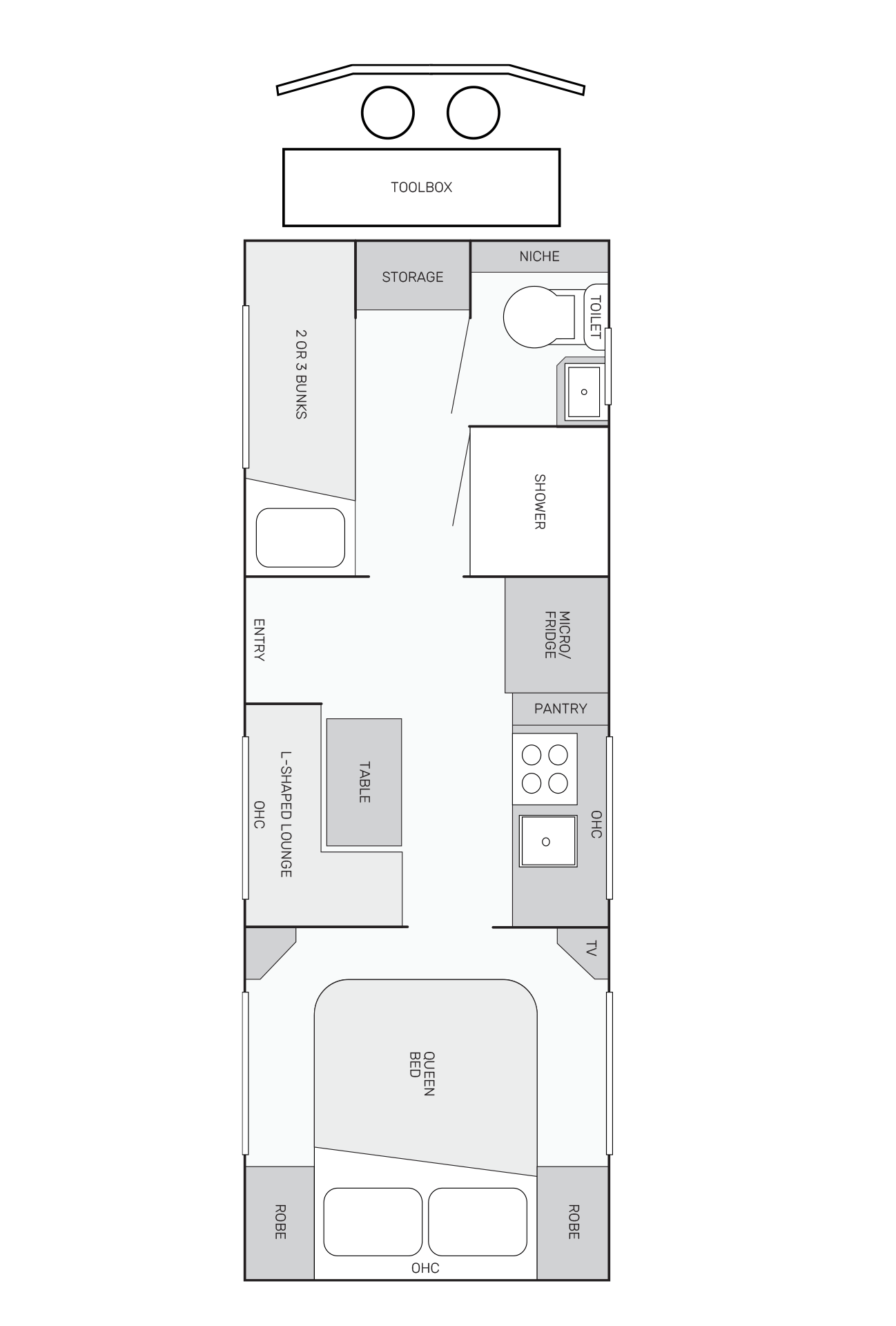 VIRTUAL TOUR
TAKE A LOOK INSIDE THE FORCE 8!
You can walk through the van, measure areas & see van features.