Road Works Ahead
Yeah, it's true.  My job is amazing.  And from my social media content you can tell it's also really fun.  I get to take and test our caravans in beautiful spots all in the name of work.  Ahem… work. There it is.  That pesky little word that creeps its way into my caravan trips!
So, whilst it looks like my adventures are nothing but campfires, cookouts and road trips I must disappoint you (and myself) in confessing it is not.  I gotta keep the wheels turning (pun intended) when it comes to my work responsibilities in the office, on the road.  And as we have all realised, it's become easier and more common post Covid.
Here in Victoria where Kokoda HQ is based, we endured the world's longest lockdown during the pandemic.  It. Was. Awful.  However, We, along with the rest of the planet learned that a lot of people really don't need to be in an office to successfully facilitate their daily tasks.  In April of 2022 nearly half (46%) of Australians were still working from home due to restrictions.  Fast forward to today and roughly 14% of people still work full time from home and almost 30% work a hybrid model.
These statistics clearly corelate to the numbers of adventurous Aussies hitting, and working, from the road.  Thankfully, thoughtful innovations in tech and caravans have made working from the road easier than we ever would have dreamed a decade ago.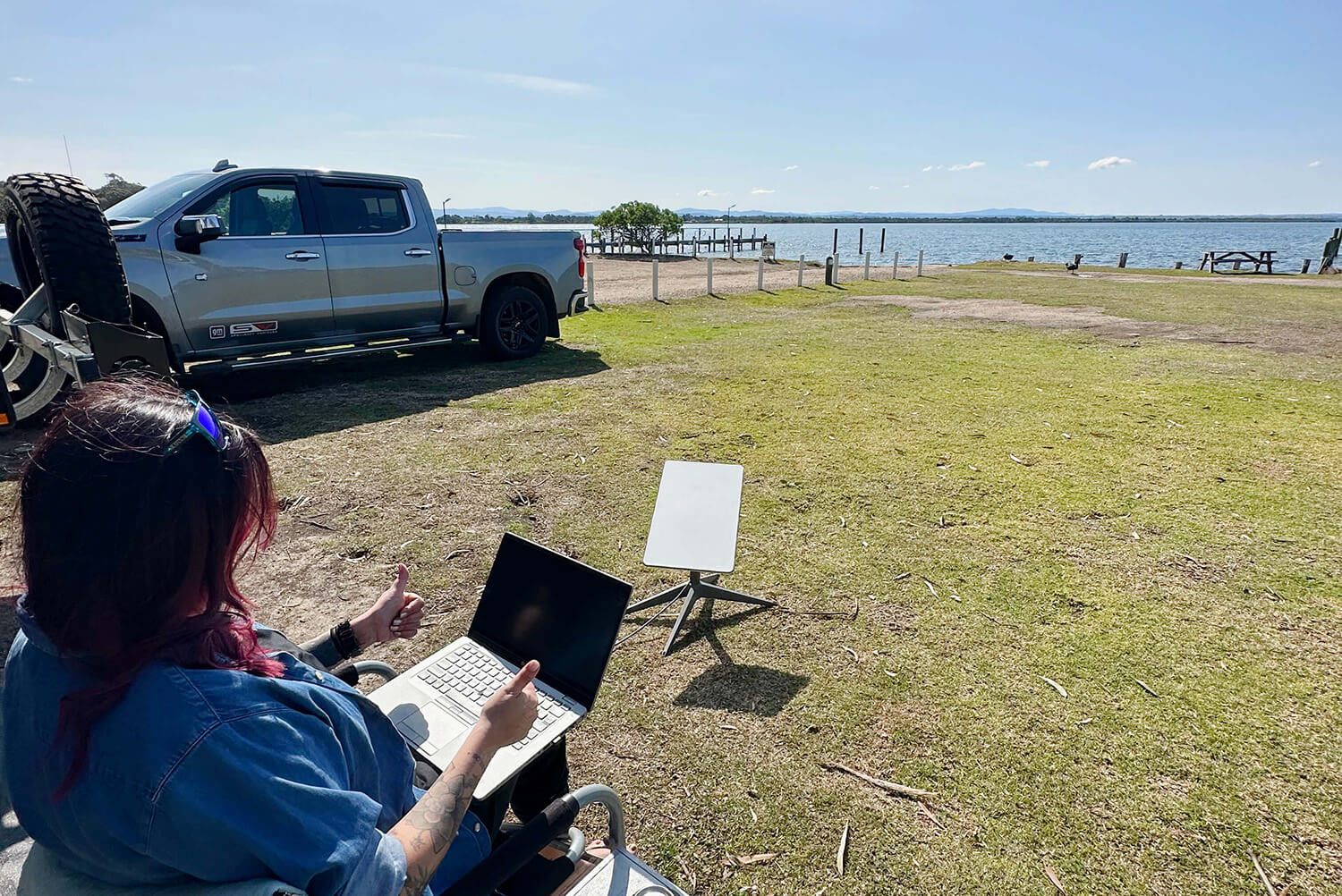 Starlink, capable battery management systems, and the creature comforts of a Kokoda make working from the road simply amazing.  I get up early, sans alarm, ready to greet the day when my office features a crisp river and mountain views.  I'm one of those odd Melbournians that DOESN'T take a coffee machine with them.  I'm plunger coffee all the way, baby.  While my coffee is brewing, I typically throw a few English muffins or bagels under the grill.  By the time the cheese is bubbling on top of the splits, my morning must is poured and I'm outside (weather permitting) to crack open the laptop with (weather dependent) either Oodie and Uggs or thongs and t-shirt as fitting office attire.
Now I don't know about you but for me, when I'm working from the road, I'm efficient as a seagull snagging chips from the picnic table when it comes to ploughing through my emails.  I chalk it up to the great nights sleep I've had, fresh air, the sounds of nature and no flouro lights overhead.  Maybe it has a little to do with wanting to take my lunch break floating in the water, too.
I had the absolute pleasure of camping recently during the delightful off-season in Gippsland's Paradise Valley and, apart from the grazing sheep that attempted to snack on my snacks, had the entire valley to myself.  As the name suggests, Paradise Valley is in a stunning valley… which previously presented a problem if you wanted to camp and work from this gorgeous place.  But Starlink has changed the game for those of us wanting to camp the previously "un-workable" areas.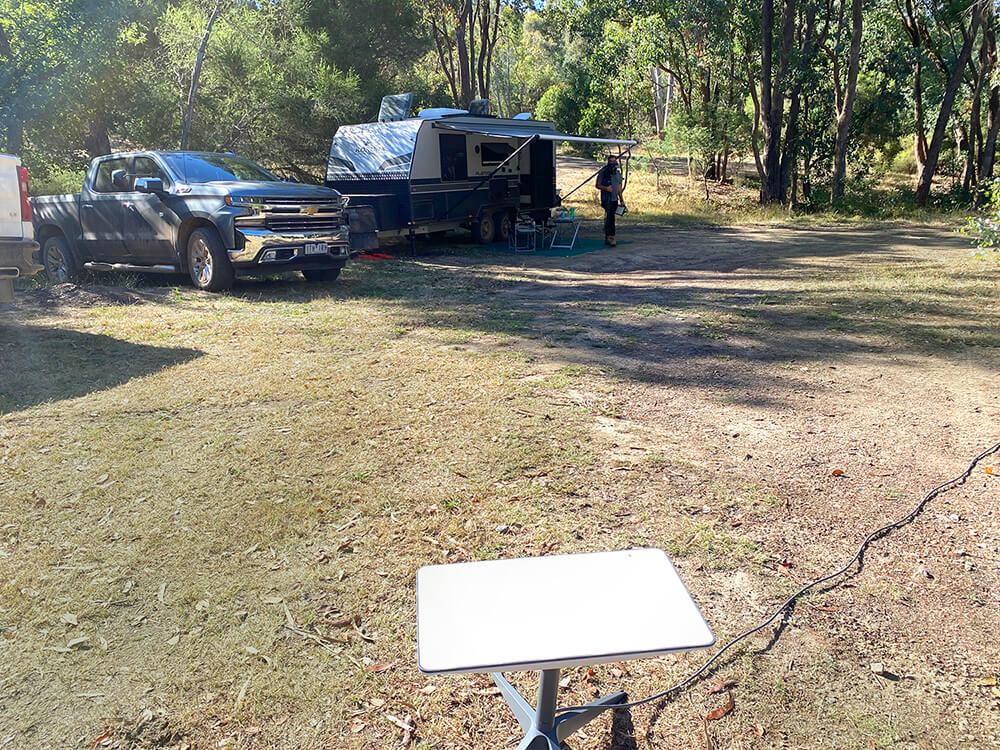 An inverter or generator (if you can handle the whirring noise) is all that's needed to keep the workflow flowing in remote areas anywhere that has enough open space for your Starlink to connect to the space junk overhead. The non-committal relationship that Elon has provided us means that I only get charged for my connection when I need it.  I've found the connection to be amazing and the entire set up itself is so easy to use.  The direction upon opening the box is literally three pictures.  Easier than Ikea for sure.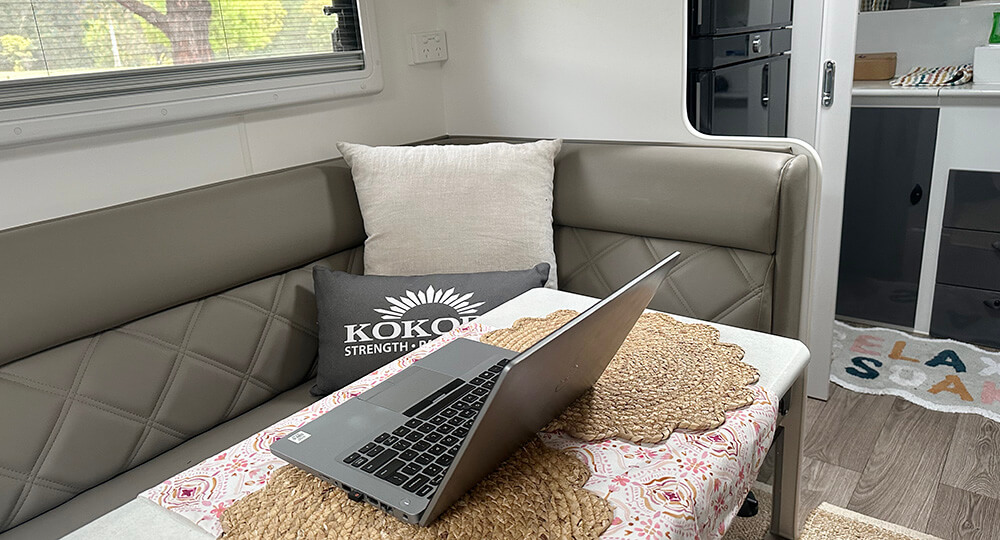 Need to sign something? No worries.  Docusign has you covered.  Oh, what's that? Someone needs a copy of that document you took with you? Easy.  Open your phone and scan away with Cam Scanner.  It's as if the universe is begging you to work in paradise if and when you can.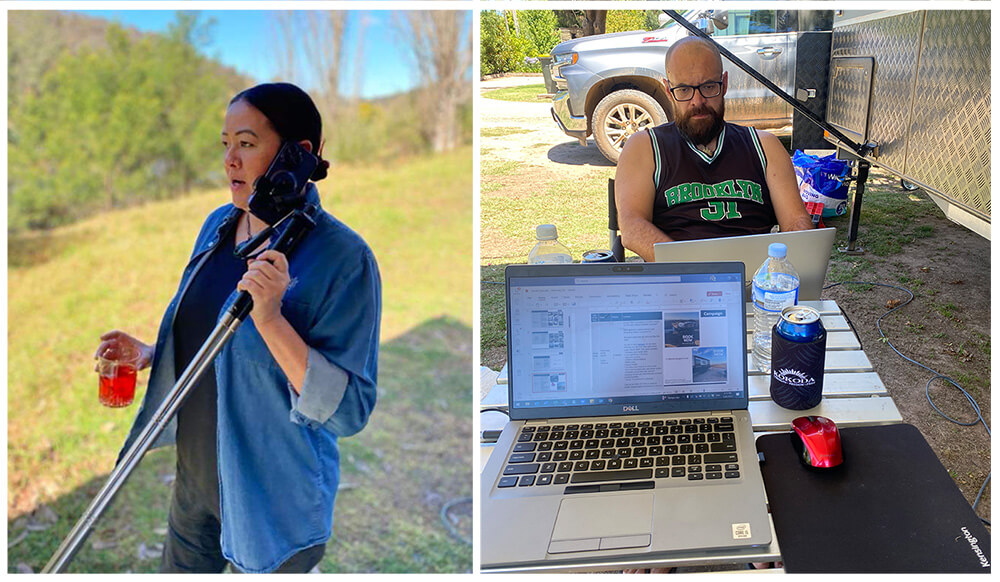 We are so lucky to have the diverse landscapes that the open roads of Australia gift to us.  And I do mean gift.  My daily commute varies from 1-2 hours each way depending on the good ole West Gate Bridge and city/tunnel traffic.  During this time, I ritually listen to ABC news and the graphic realities and difficulties other countries deal with that we are fortunate to be so far removed from. During the dance of changing lanes, riding the brakes, and furrowing my brow at what some idiot world leader has done now, I remind myself how lucky I am that I get the opportunity to work and play in the same day when I take a Kokoda on the road.  
Don't forget to pack: 
Extra cords/chargers for everything.  Don't pretend you haven't forgotten your laptop cord before or left your charging cable somewhere.
Comfortable chair and table/desk that will not have your back wanting to divorce you at the end of your work day. 
Extra batteries for any/all of your equipment.  If you think I'm gonna use that little touch pad instead of a mouse you're wrong.
Portable monitor to double your screens.  I have three when I'm in the office but two does me just fine to keep work as efficient as possible on the road.  I found a great one on eBay for $150.  Totally worth it. 
Starlink.  Duh. 
Generator.  Even if you've got an inverter or will be in a powered site... having a generator as back up is always recommended. 
If you're willing to part with the dosh - a digital notepad.  I don't have one but it's on my list of "gonna gets".  While in the office I have endless scrap paper I reuse.  On the road, no discarded documents to flip over and scribble on.  Plus, it's more waste I don't want to take on the road. 
Noise cancelling headphones.  Your co-workers don't want to hear the sound of crashing waves when they're in the office.  Don't rub it in.
If you want to see more tips or what I get up to on the road then give my Instagram page a follow: @that_kokoda_lady
 Summer Salvato aka That Kokoda Lady