Snow Adventures!


"I'm sure there's a Kokoda under there!"
Harry & Rachael enjoying the cold weather at Katoomba Falls Caravan Park.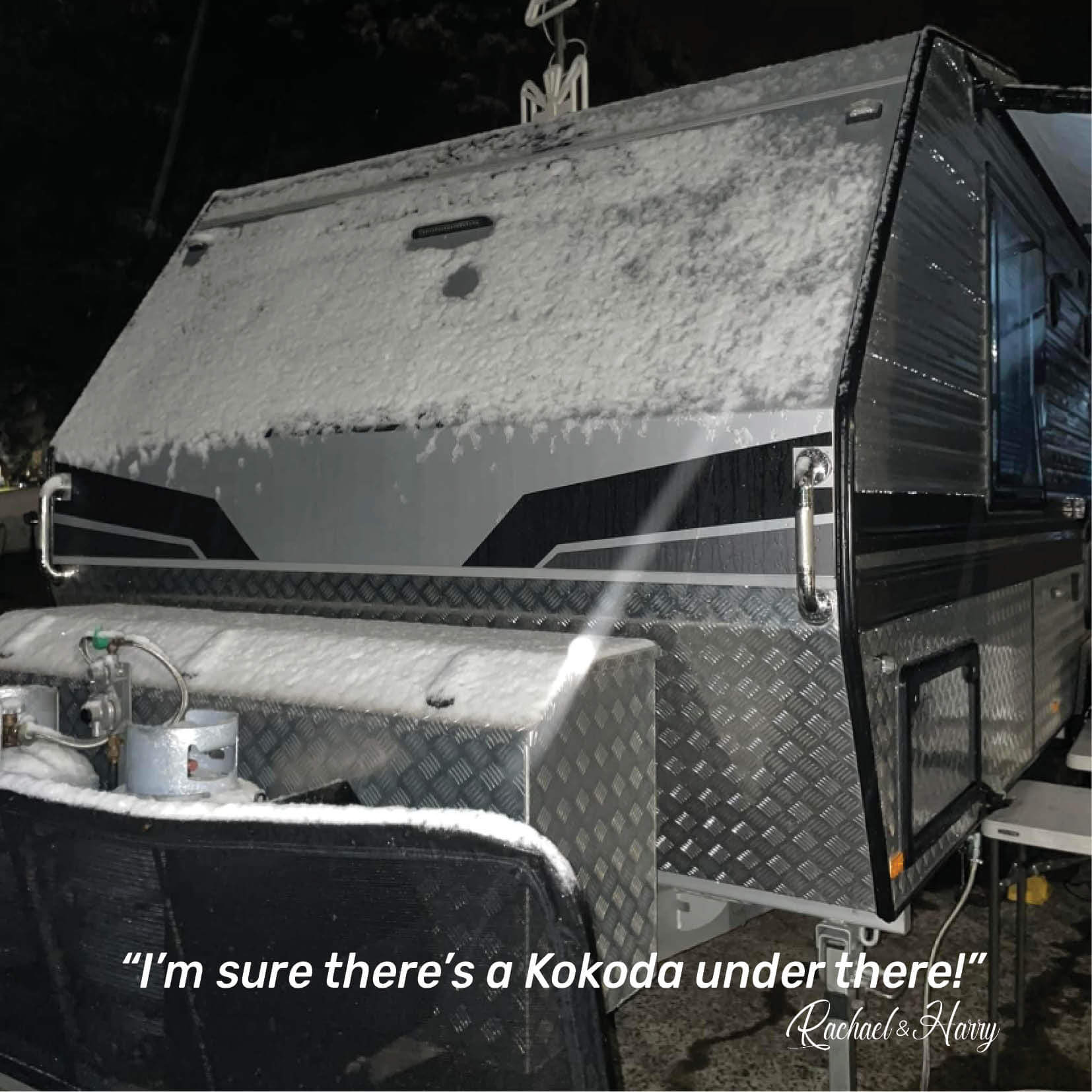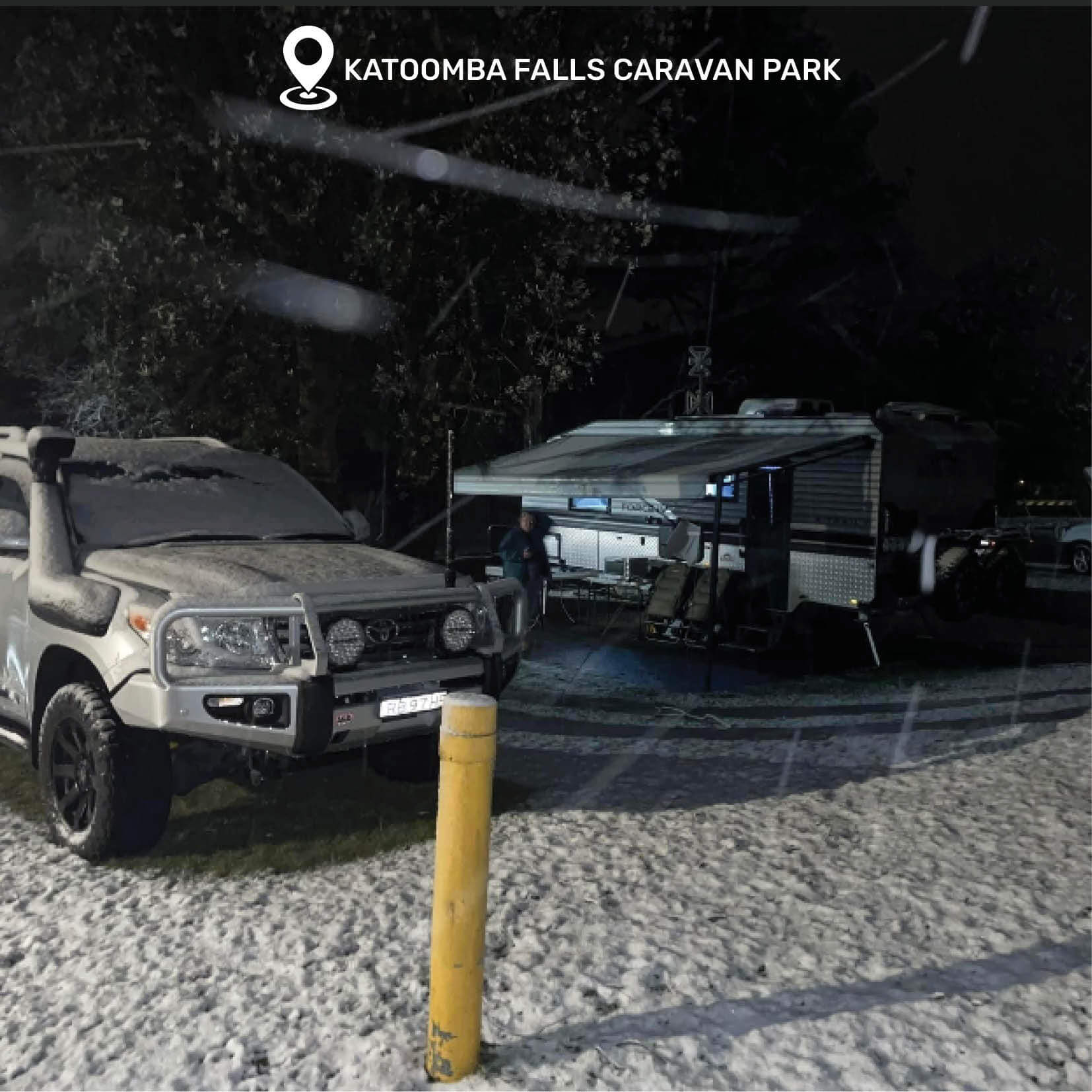 Here are some tips to help you when in the snow.  
1. Use and carry snow chains
If there is any chance you'll encounter snow on your lower altitude adventures, make sure you carry a set of snow chains for your vehicle at all times.
Snow chains are designed to give you extra traction in slippery conditions however, they look complicated and take some practice so make sure you know how to use them by following the instructions and practice.
Tip: Carry a pair of old weather- and waterproof gloves in the car for chain fitting. They'll keep your hands warm when you're out in the elements, and they'll keep the grease off too!
2. Avoid burst pipes
If you are headed to an extremely cold area where temperatures are often at freezing point, you will want to prepare your water tanks and internal pipes. Keep pipes at temperatures above freezing point. Insulate your external water tanks with covers and use tank heaters for added protection. Invest in a water heater or conversion kit for those hot showers. Or fit your pump with a winter housing kit. Keep silicone tape near to seal leaky pipes swiftly.
3. Tyres
Hitting the snow or ice can be an experience as you will slip and slide a bit, but good quality offroad tyres with lots of tread will help. All-terrains will suffice but, the more aggressive the tread pattern, the better.
Tip: Lower your tyre pressures in the snow to further improve traction.
4. Stay in the tracks
Driving in the ruts of those who've gone before you is the best way to stay on course in snowy conditions, due to the snow being compacted. These hard packed vehicle tracks will assist with traction and help directional control in deeper snow by guiding your wheels.
Tip: This idea of compacting snow for traction also works if you get a bit bogged. If you can't get yourself out, back up and have another go. Each time you drive over the same spot, you're compressing the snow and improving traction.
5. Carry recovery & emergency gear
Recovery and emergency gear are must-haves when travelling in these conditions. The weather can change in an instant in winter, especially at higher altitude.
As far as emergency supplies go, make sure you've got a long-handled shovel, plenty of warm, dry clothing, water, food and blankets for at least a few days.
6. Check your fuel
High altitudes and low temperatures can wreak havoc with diesel vehicles. The fuel changes consistency at very low temps and will lead to your car not starting. Most service stations can help with the right fuel or additives, just make sure your tank is empty, or close to empty, when you fill up, or it will lose its effectiveness.
Tip: If you're camping out overnight throw a blanket over your vehicle's engine.
7. Warmth
While any caravan provides an effective shelter from the elements, you need to add some extras for effective winter cosiness. 
Check your caravan's heating systems before you leave to make sure they are working correctly. While you are on the road, park your van in a position where it can soak up the sun for as long as possible, then close up the doors, windows and curtains just before the temperature begins to drop. 
Make sure you pack your winter woollies, especially if you're planning to spend some time out by the fire! A good jacket, gloves, a scarf and beanie are essential. Add some good quality thermal underclothes and you're all set.
Pack plenty of layers for sleeping, and ensure you have lots of blankets. A winter weight sleeping bag spread over the bed will allow you to regulate the temperature of your coverings throughout the night.
 8. Clear snow from your trailer before you go
While this might seem like an obvious tip, it is often forgotten or overlooked. By clearing most of the snow from your trailer you prevent a chunk of snow dropping onto your tow vehicle when you brake, which can inhibit visibility and potentially damage your vehicle. It also keeps other drivers safe by not shedding snow and ice onto the road as you drive.
Tip: While it can be difficult to get on top of tall caravans and trailers, having a step stool and broom on hand is an easy and inexpensive way to clear all those hard-to-reach places.
 9. Plan ahead
Like every holiday on or off the road, you need to be prepared for you journey. Check the best and safest routes along the way. Check weather and traffic updates every day and only drive if its is safe to do so. If you are driving through the snow, pull over if it starts getting too heavy and visibility decreases. Allow for more time on your winter journey than you would in summer. Always notify a family member or friend of where you are and where you're headed.
Winter is a beautiful season and can make for some awesome travel experiences you just have to be a little more prepared should you choose to head into snowy conditions. So, get out and adventure this Winter season. Follow these handy tips and tricks to beat the chill.