DRIVING TO THE KOKODA NATIONALS EVENT 2022
The Kokoda National Gathering this year was held in Dunsborough, Western Australia in September 2022. You may have already read our article about the event, if you haven't you can check it out here:
https://www.kokodacaravans.com.au/blog/our-blog-10/kokoda-owners-event-2022-21 

The event was a great success with just over 50 Kokoda vans attending and over 100 Kokodians! We have a great bunch of Kokoda owners who love getting out and about, free camping as much as possible and getting good use out of their Kokoda vans. 
Some Kokodians travelled thousands of KM's to meet other Kokodians and attend the national event, which is inspiring and shows you the amazing community we have. 

Here are some stories of Kokodians on their way to the event with some photos they each took driving there. 
Vicki and Glenn Bryant - NSW
Glenn and I (Vicki) have organised all the Kokoda National events, starting in 2017 with our first at Lightning Ridge, NSW. Every Nationals is in a different state, and this year was Western Australia's turn. A Nationals event is a huge undertaking, with preparations up to two years in advance. 
We started to arrange our Dunsborough, WA Nationals in 2020, when the world was hit by Covid. We thought 2022 gave us plenty of time to "get back to normal" ……. How wrong were we? 
Border closures and travel restrictions hovered and threatened the event going ahead. Glenn and I know how much Kokodians love getting together and couldn't bear the thought of cancelling or postponing again. (Our 4th Nationals in Victoria needed to be postponed for four months because of border closures) 
So, while WA remained closed indefinitely, we were planning a second National event. One in the East, and one in the West, at the same time so we could face time or Zoom each other. Thankfully the borders opened, as that would have been an almost impossible task, but we were up to the challenge. 
Watching all the Kokodians travel progress as they left their home states to travel to WA was an amazing sight. We have a great bunch of like minded Kokoda owners who love getting out and about, free camping as much as possible and getting good use out of their Kokoda vans. The fact that they are traveling thousands of KM's to meet other Kokodians is very emotional. Glenn and I are proud to be the ones who make these Nationals happen, and supper proud to be Kokodians. 


Our road to the kokoda nationals 2022
We have made a YouTube video of our travels to the event. Happy Campers Australia
Cathy and Mal Magor - QLD
We left Hervey Bay on July 7th across the top to Dunsborough. No idea how many Kms as we are still only half way across Australia. But currently 14000 and climbing. We have experienced rain, mud, red dust, white dust,  flies, midges, sand, sun, wind, cold and hot. I think every caravan owner was on the road heading north. Very hard on the truck drivers when some folk travel slowing and won't pull over. We don't normally plan a trip but we had to because we had to be at Dunsborough . The trip home is completely different wake up in the morning and decide.

We saw very few Kokoda's on the road as we were all heading in the same direction . We did the the KFW several times, but to vans heading in the wrong direction got a few back. This is our fifth national meet and delighted to receive recognition of this. 
The journey took us through stunning scenery, amazing sunsets and meeting old friends along the way. 

Deb and Andy Pow - SA
Andy and I travelled from Adelaide with friends who are new to caravanning (unfortunately not Kokodians) leaving on 1st July.  
We travelled across the Nullarbor to Kalgoorlie, from there to Geraldton and up as far as Exmouth. We saw whales at the Head of the Bight and camped on the cliff tops at Bunda Cliffs where little marsupial mice came to check us out as we sat round the camp fire.  We free camped most of the way in our fabulous, comfortable and reliable Kokoda Force II.   
Highlights of our trip are hard to pick as there have been so many.  The bright beautiful colours remain with me from crisp white frost in Penong (glad of our diesel heater) to 4wding in the bright red sands of Francois Peron National Park (without the van) snorkelling in Turquoise Bay (and it is too) to the beautiful white sandy beaches of Lucky Bay nr Esperance.
And of course the colourful wild flowers everywhere! 
The Dunsborough Kokoda Nationals event was fantastic and so well organised. Every day brought something different from bus tours to winerys, quizes, dancing, happy hours and of course making and meeting friends. As well as all that we raised money too for the CFS. 
This was our first time attending and we are so glad we were able to make it this year.  
A big thank you to Vicki and Glenn for all their efforts putting such a fabulous event together.
 John & Janet Hayward, VIC
We travelled from Victoria for the National gathering, having ventured up the middle of Australia to Darwin. Across the top to WA down around all the wild flowers then beaches to Southern Stars Caravan Park. 
What a week we had! Into gold fields then crossed the Nullarbor to SA before heading home. It was a great event, and great trip in general.


Peter & Kama Shattock, WA

After travelling for 4 months and covering 16,000 km to get to the Nuriootpa Nationals in 2018, we were content to tow our Digger just 23 km to get to the Dunsborough Gathering. Thanks for a great event!



Roz and Keith Godfrey - WA 
We both had Covid before the event and came out of quarantine on the Sunday, Day 1 of the event! Lucky we made it and had the best catch up reunion at the 5th Nationals.
Wendy & David, QLD

Departing Brisbane end of April 2022, travelling through Qld, NT & into WA to Dunsborough. 
We had very comfortable accommodation in our Kokoda Platoon 2 X-trail. We have enjoyed this wonderful country of ours, from the Kimberley to the wildflowers, Rocks & turquoise oceans zig zagging our way to the 5th National gathering at Dunsborough. 
We were one of four couples to venture from Qld to meet up with old friends & make new ones. 

Wayne & Charmaine
Attending the Kokoda Nationals event in Dunsborough recently we were hoping we would meet a few new like minded people and catch up with a few we'd already met from the Barossa gathering a few years back. We knew the area well and were expecting some fun filled days touring the region and enjoying the company of fellow travellers. We were not disappointed! 

For us, happy hours seem to be when you really appreciate being around other Kokoda owners. The comradery and information sharing is fantastic. People are only too happy to help out. We shared lots of laughs and stories with others during the activities.

Being Kokodians since 2017 we have always felt that when we see another Kokoda van we already know them. Running the WA Kokodians group we have met so many new caravanning friends who feel like family.

We thoroughly enjoyed the event and the park facilities. We were exhausted at the end but really didn't want to go home!
Phil Bountyhunter

I had a great time travelling to the event and while I was there. I stopped off at the Windmill museum at Penong in SA, Ten mile rock Eyre Highway WA and many other places.  We had four Kokoda caravans at Norseman WA stopping for coffee together, it was great catching up with friends. 

We stayed at the Southern star caravan park and they even have a dog enclosure for van and dogs which was great! 
At the event we had coloured shirt day and trivia afternoon followed by Paella for tea and then disco music in the Ballroom till late. Overall it was a great event!

Checkout Buck Mark and Ron cooking the eggs in my photos! Yes Chef!
Pettienne Craig, VIC
 
Hi I'm Pettienne and I run the Victorian Kokoda Owners fb page with my friend Julie. We had 5 Kokoda Caravans attend the Dunsborough Kokoda Nationals 2022. We are so lucky to get away with like minded people. We all had a terrific time. ☺️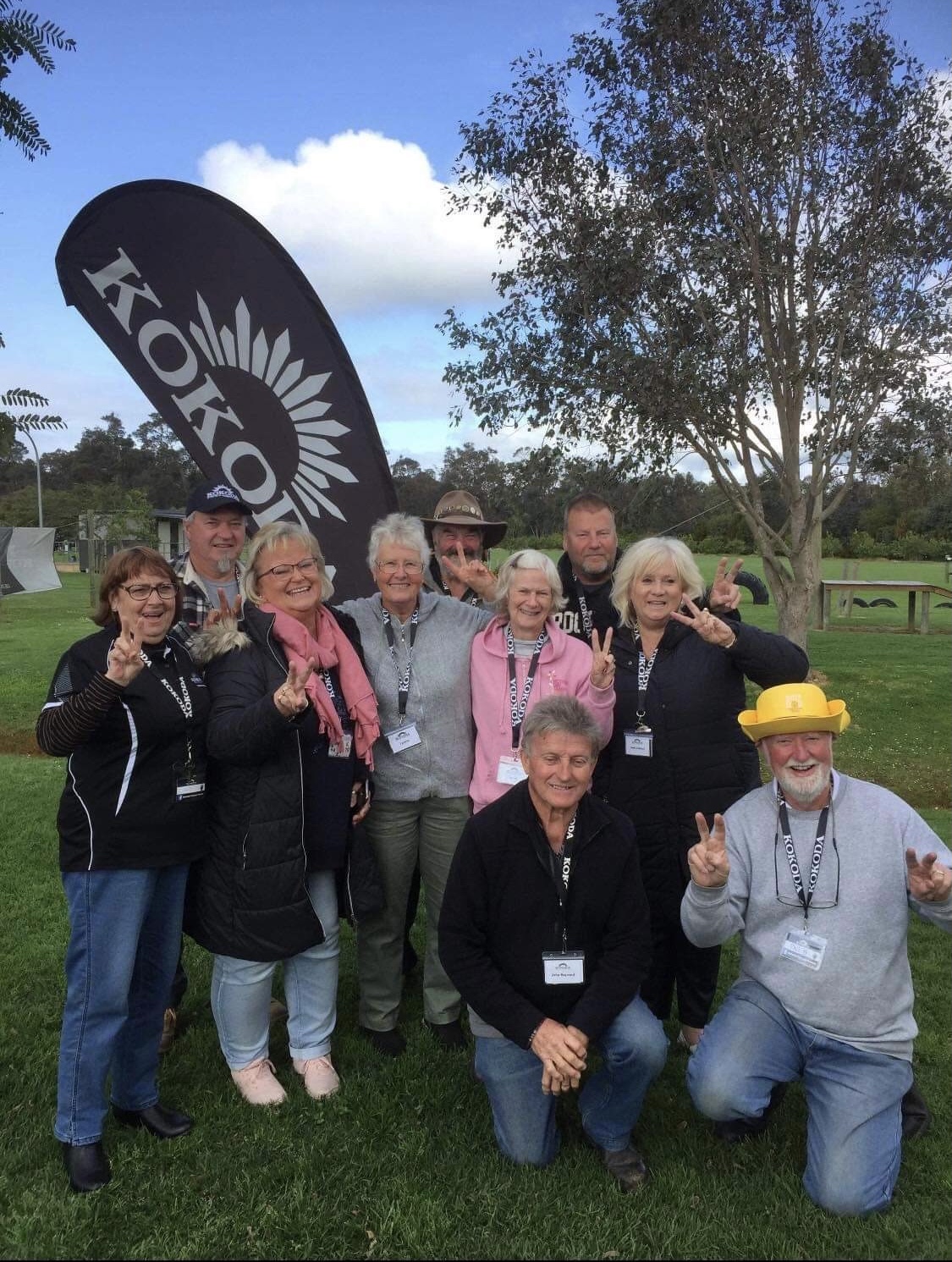 Tess & her dog Bella, NSW

My name is Tess, I purchased my Platoon 11 XL X-Trail back in 2016. 

Joining the Kokoda owners page was one of the first and best things I did. 

The information and knowledge of other owners is invaluable, as a newby to caravanning (in 2016) I had a lot of questions, some I thought were silly, but I was soon told that no question is a dumb question. 

I have attended a few of the National gathering's and WA was always on my must do list so when it was announced I jumped on the phone and booked into Southern stars Holliday park. 

Here are some of the highlights from that journey. 

Leaving home on the Central coast of NSW with my travel companion Bella on 10th of August I traveled west. My partner Shaun will join us in WA as he unfortunately has to work, so it's a girls trip for now. 

Free camping at Gunning, then camping out the back of the Darlington point hotel where they do put on a good feed. 

The first caravan park was at Mildura, where we both enjoyed stretching our legs with a walk along the Mighty Murray river. 

Our first border crossing and we were in SA. Next stop Jamestown. It was a lovely little town, followed by a night at The nutbush retreat caravan park at Pandura. 

Now the excitement was building pulling into Ceduna, the last stop before the start of the Nullarbor and to be honest I was a little worried about doing the next stretch on my own, so I put out the call on the Kokoda owners page and received a reply. 

I waited in Ceduna for a couple of fellow Kokodians to tackle the Nullarbor with me. 

A couple of highlights from the Nullarbor were Bunda cliffs and the free camp at the old telegraph station at Eucla. 

Esperance, Albany and Augusta were absolutely amazing but my most amazing moment was pulling into the 5th National's and the standing ovation of Kokodians doing the traditional KFW.